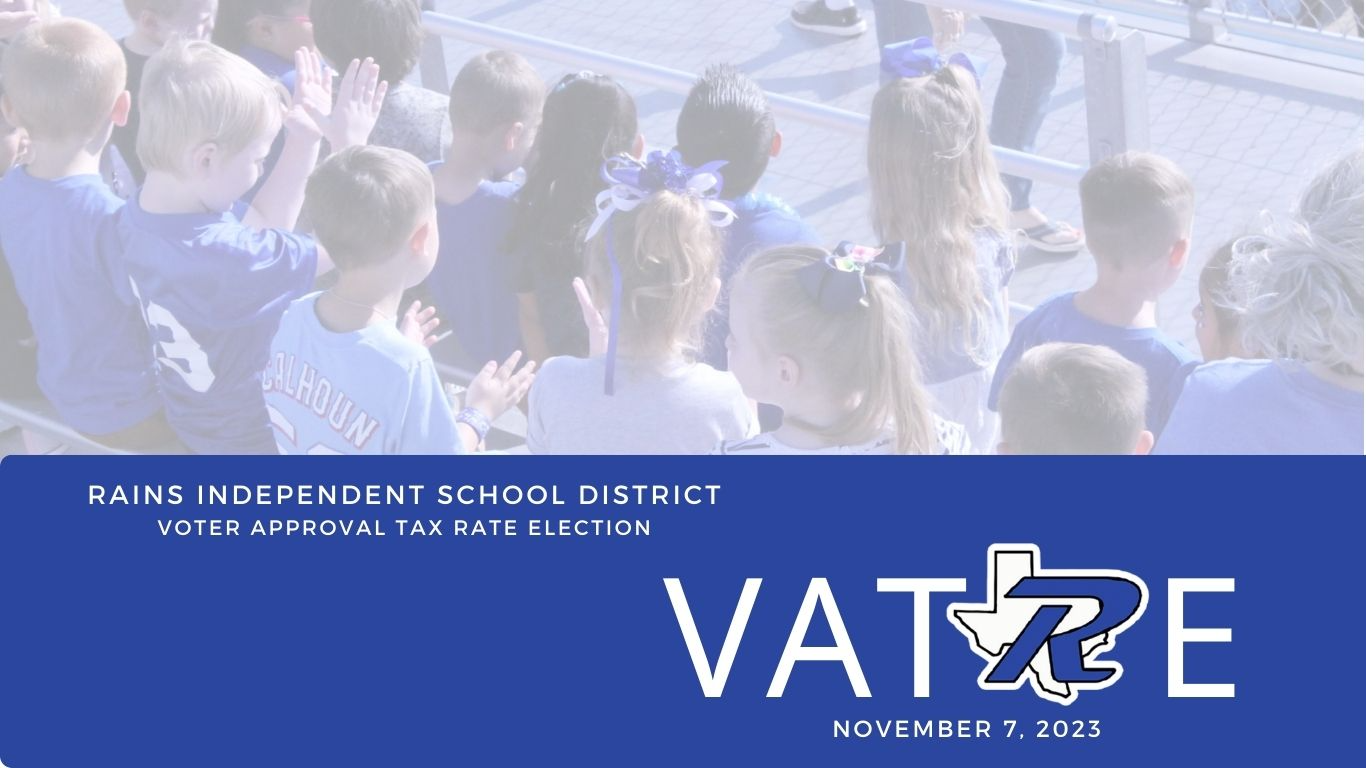 Rains ISD Voter Approval Tax Rate Election (VATRE)
November 7, 2023
The Rains ISD Board of Trustees has called a Voter Approval Tax Rate Election (VATRE). Rains ISD adopted a tax rate that will raise more taxes for maintenance and operations than last year's tax rate.
The tax rate will effectively be raised by 10.4% and will raise taxes for maintenance and operations on a $100,000 home by approximately $58.32.
Important Dates and Polling Locations
The last day to register to vote is Tuesday, Oct. 10, 2023.
Not sure if you are a registered voter? Click here to confirm your voting status.
Early voting in the November election is as follows:
Monday, Oct. 23- Wednesday, Nov. 1, 2023, 8:00 am-5:00 pm. EXCLUDING WEEKENDS
Thursday, Nov. 2, 2023 and Friday, November 3, 2023, 7:00 am-7:00 pm.
The deadline to receive applications for ballot by mail is Oct. 27, 2023.
Election Day is November 7, 2023.
The Rains Independent School District Board of Trustees voted on Monday, August 21, 2023, to place a Voter Approved Tax Rate Election(VATRE) on the November 7, 2023 ballot.
Official Ballot Language:
Rains Independent School District Proposition A/ Distrito Escolar Indpendiente de Rains, Proposición A
RATIFYING THE AD VALOREM TAX RATE OF $0.8766 PER $100 VALUATION IN RAINS INDEPENDENT SCHOOL DISTRICT FOR THE CURRENT YEAR, A RATE THAT WILL RESULT IN AN INCREASE OF 11.4 PERCENT IN MAINTENANCE AND OPERATIONS TAX REVENUE FOR THE DISTRICT FOR THE CURRENT YEAR AS COMPARED TO THE PRECEDING YEAR, WHICH IS AN ADDITIONAL
$1,812,303.
RATIFICANDO LA TASA DE IMPUESTO AD VALOREM DE $0.8766 POR CADA $100 DE VALORACIÓN EN EL DISTRITO ESCOLAR INDEPENDIENTE DE RAINS PARA EL AÑO CORRIENTE, UNA TASA QUE RESULTARÁ EN UN AUMENTO DEL 11.4 POR CIENTO EN LOS INGRESOS TRIBUTARIOS POR MANTENIMIENTO Y OPERACIONES PARA EL DISTRITO PARA EL AÑO CORRIENTE EN COMPARACIÓN CON EL AÑO ANTERIOR, QUE ES UN ADICIONAL DE $1,812,303.