🎤 *taps mic* "Is this thing on?" Got the Rains ISD app? Make sure you're getting the right push notifications to your phone. Swipe through the graphics to learn how to check your notification settings. Don't have the app? Search "Rains ISD" in your Apple or Google Play App store for menus, events, updates, and reminders.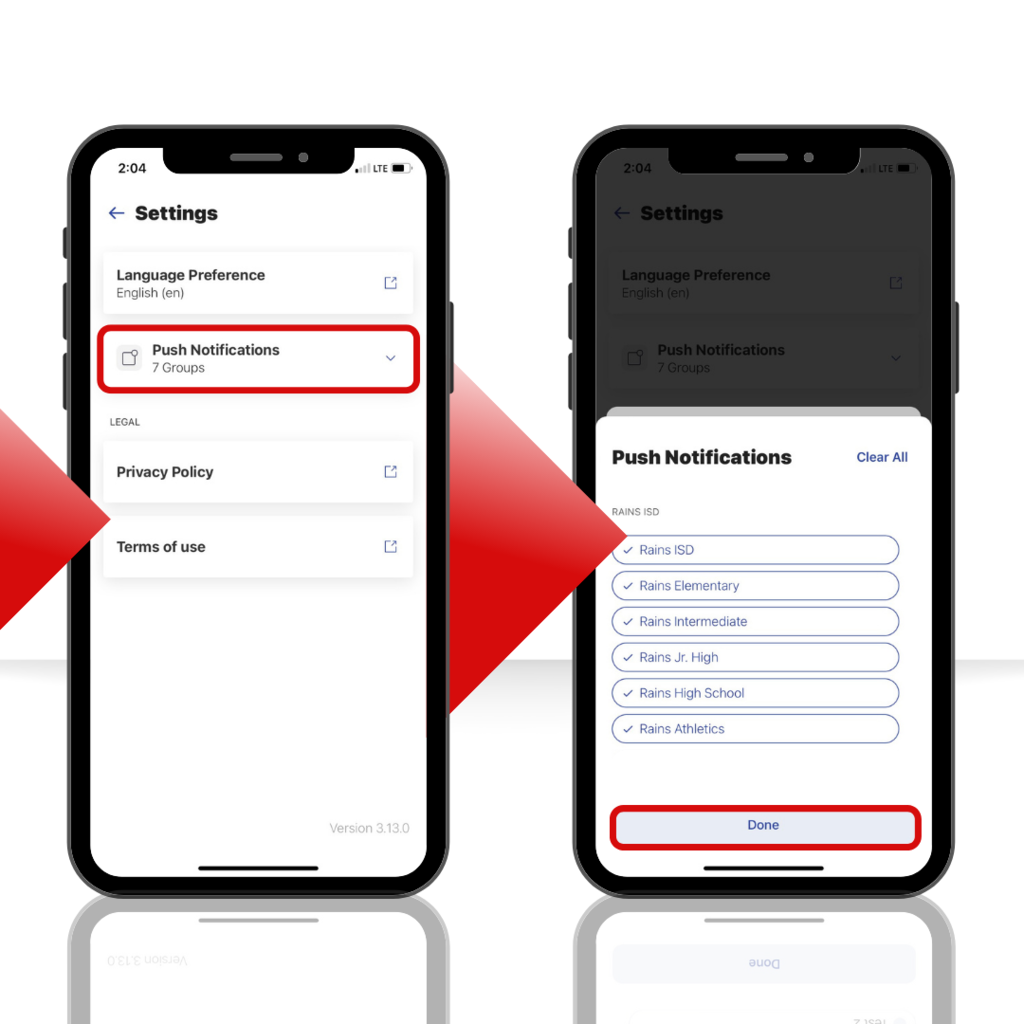 What a great day to be a Wildcat! Our Rains Cross Country program hosted their annual meet this morning with 27 visiting teams! #RunWildcatRun #CodeBlue #RainsISD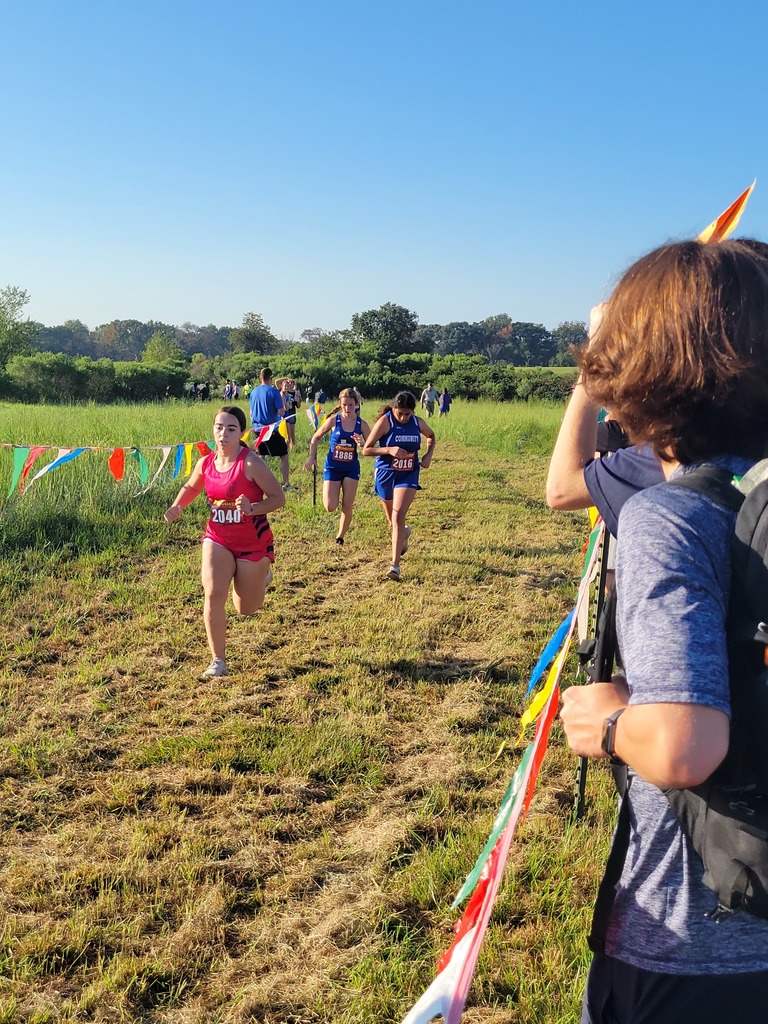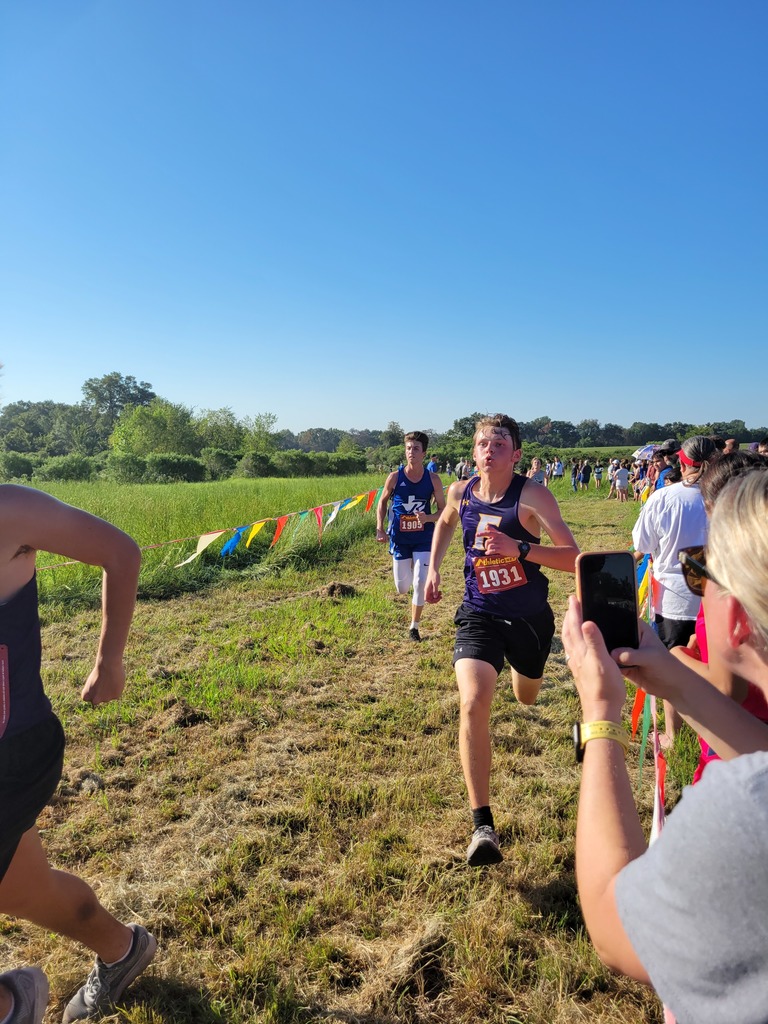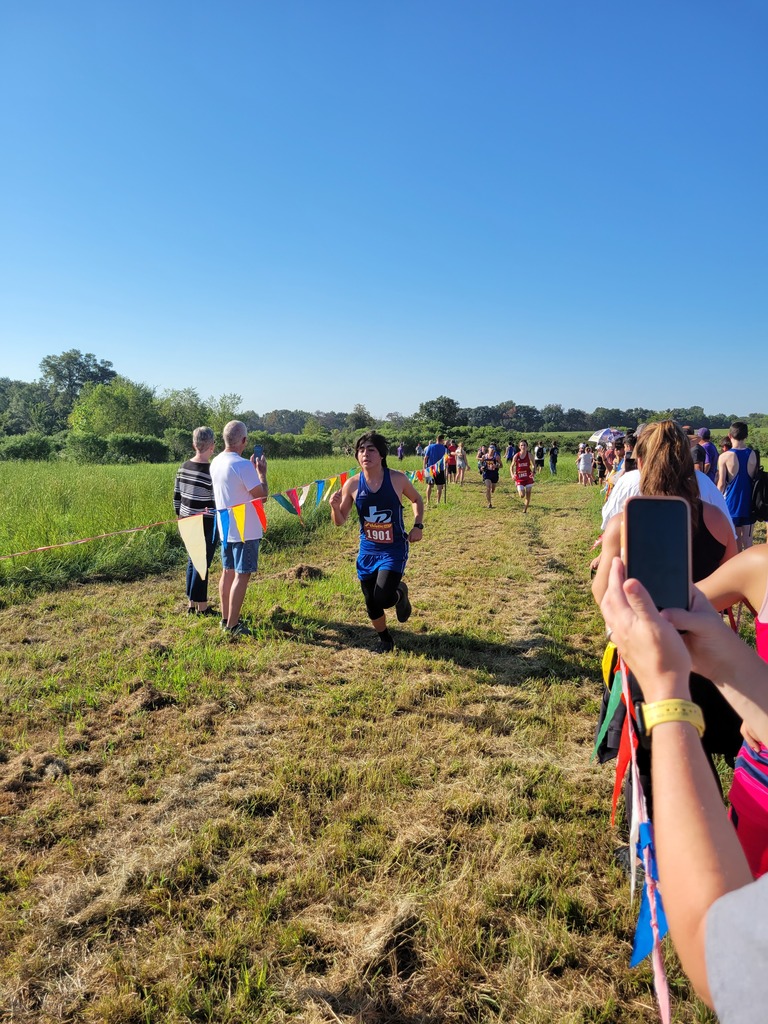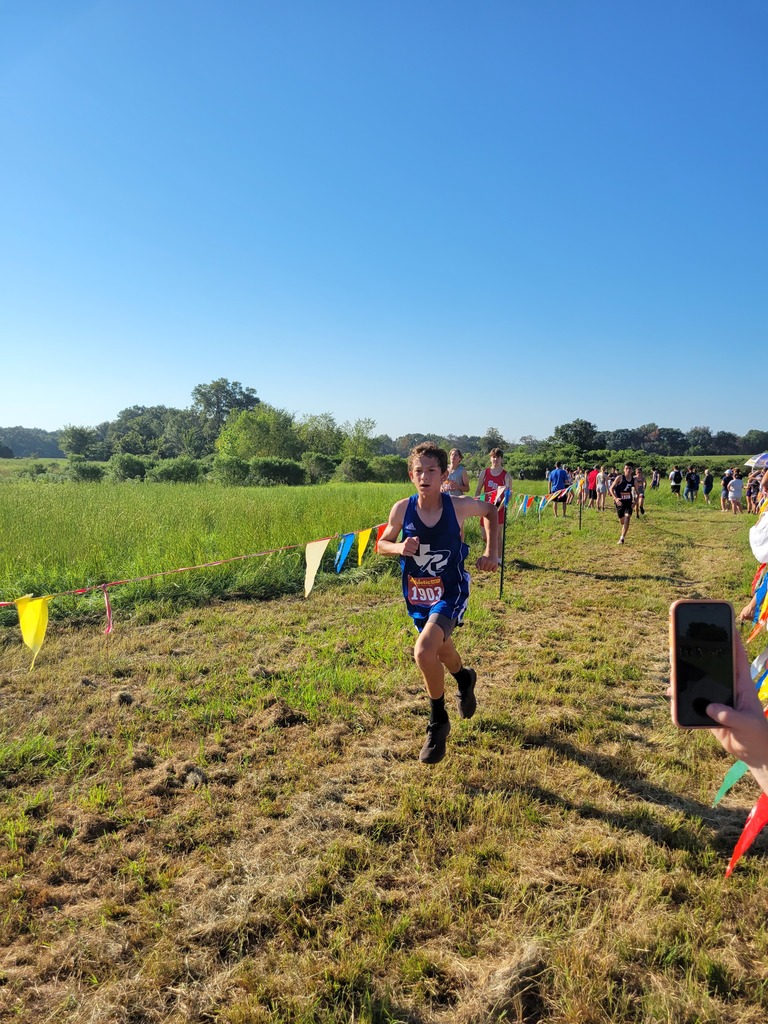 Wildcat families, please be advised: There will be extra traffic for the annual Rains ISD Cross Country meet today, 9/22. We have 27 teams visiting us and there will be extra buses and spectators pulling around. Be aware and extra cautious as you drop off your students.


Wildcat Football Fans!🏈💙 Tickets for this week's games at Winnsboro are online only. 👉🏼
https://t.co/osErlcZnyH
#CodeBlue
Please read the following notification regarding a gas meter issue on 9/19/2022.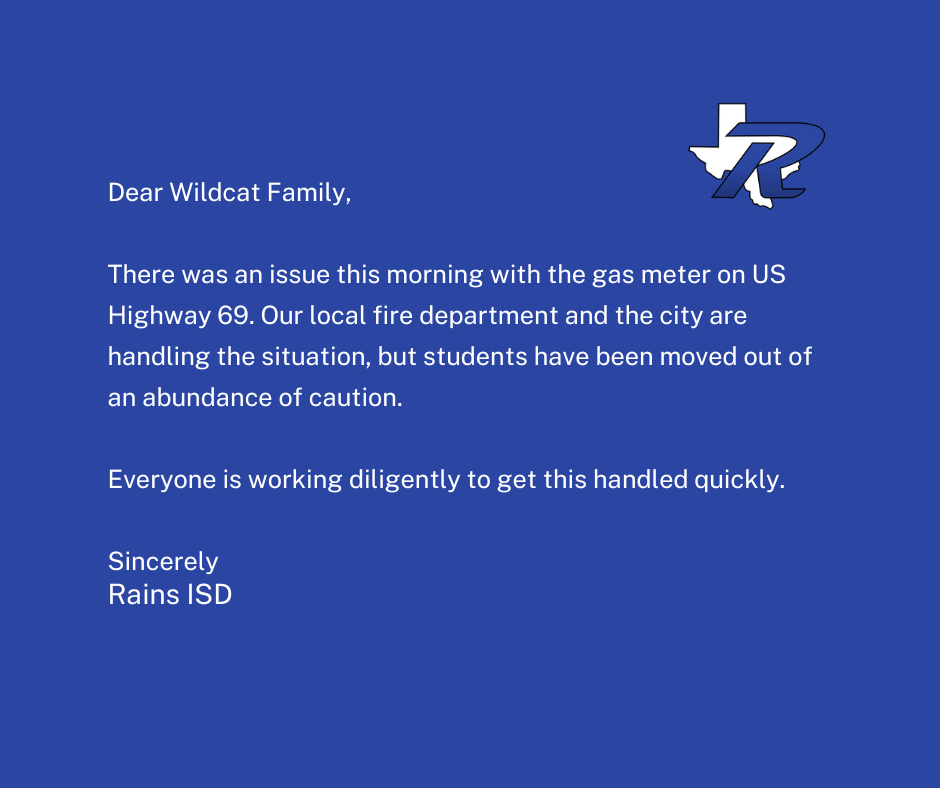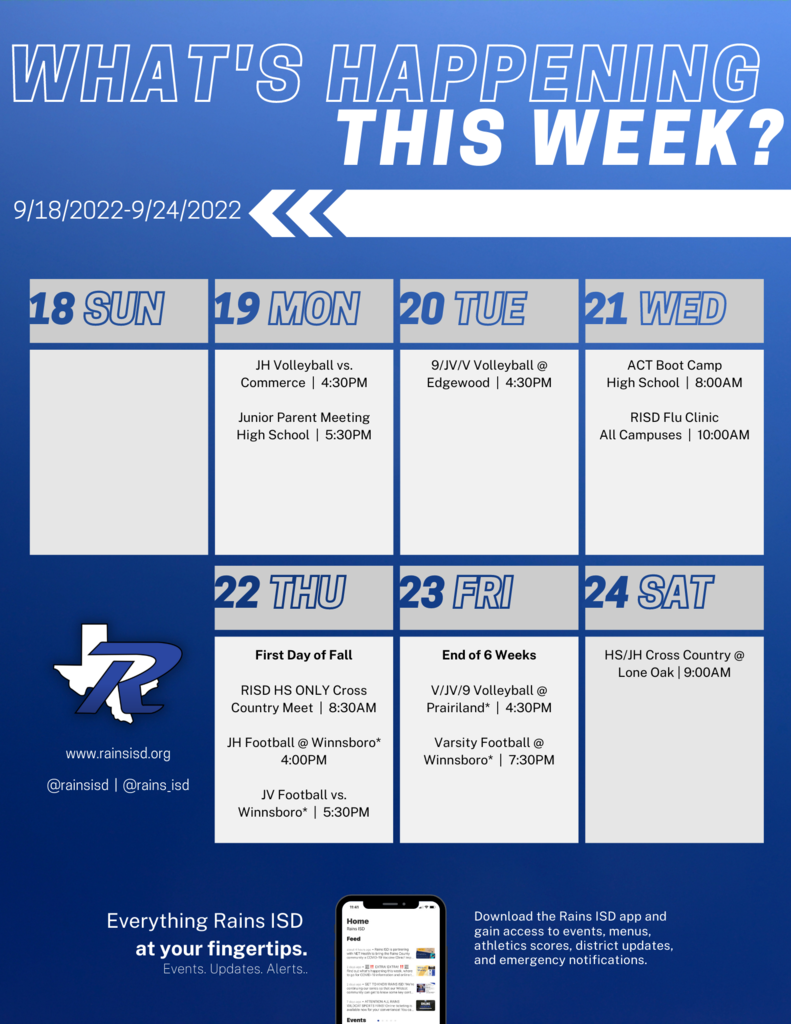 DON'T FORGET! There will be NO SCHOOL tomorrow, 9/16/2022. Enjoy your weekend! #RainsISDFairDay2022 #RainsCountyFair
Please read the following notice from the Superintendent regarding an ambulance call involving a student at Rains High School on September 15, 2022.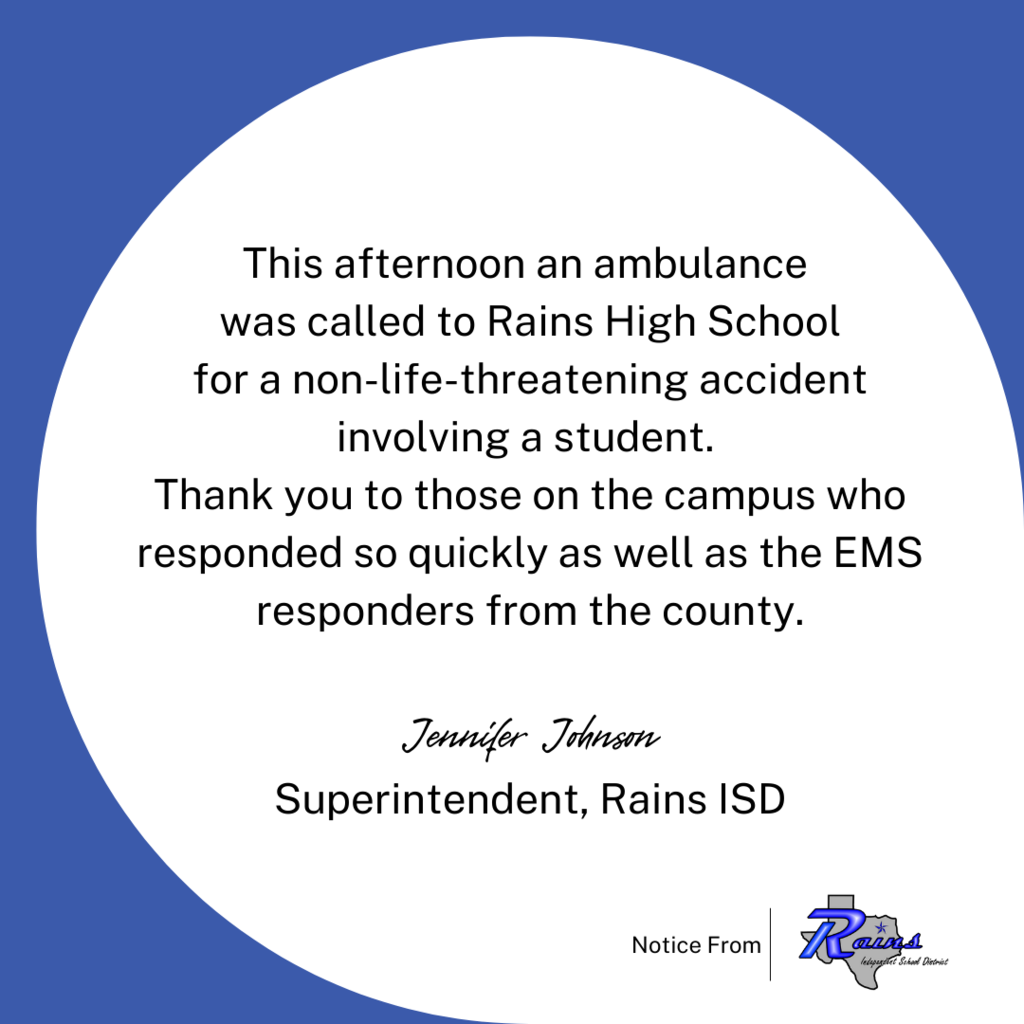 Rains ISD thanks all the local businesses, churches, and banks for supporting our teachers and staff as we started the school year. We appreciate all that you do for our Wildcat family.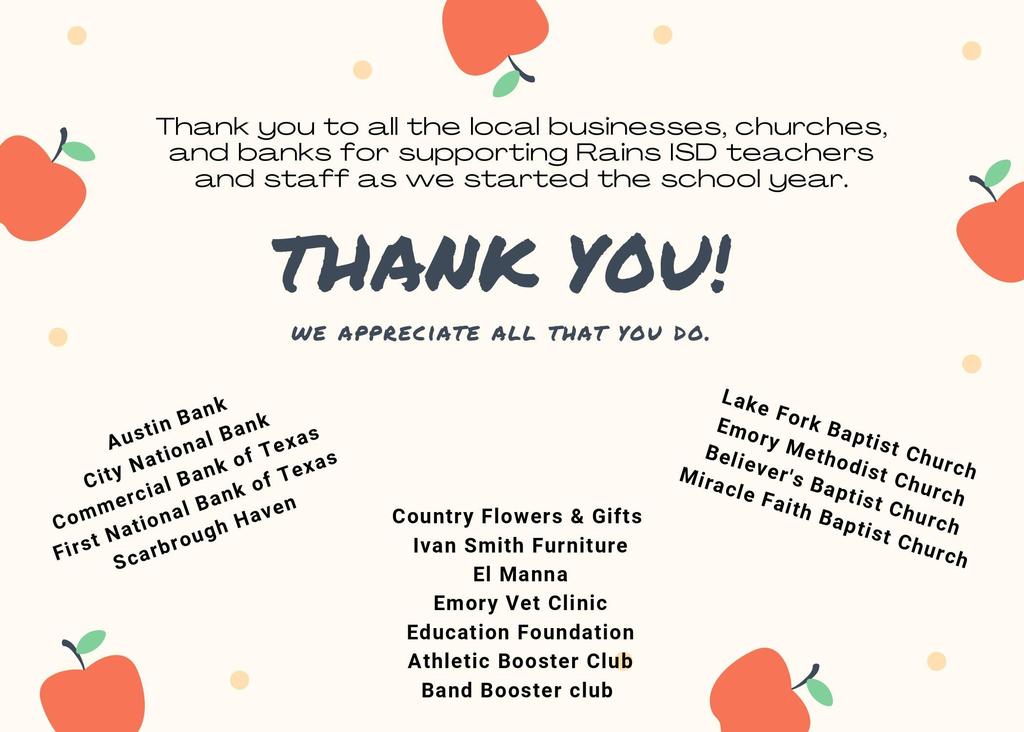 This is a test of the notifications.
Congratulations to our 2022 Wildcat Homecoming King, J. Chambers! Join us tonight at Wildcat Stadium as we crown our Homecoming Queen and her court at 7:00PM. 😺💙👑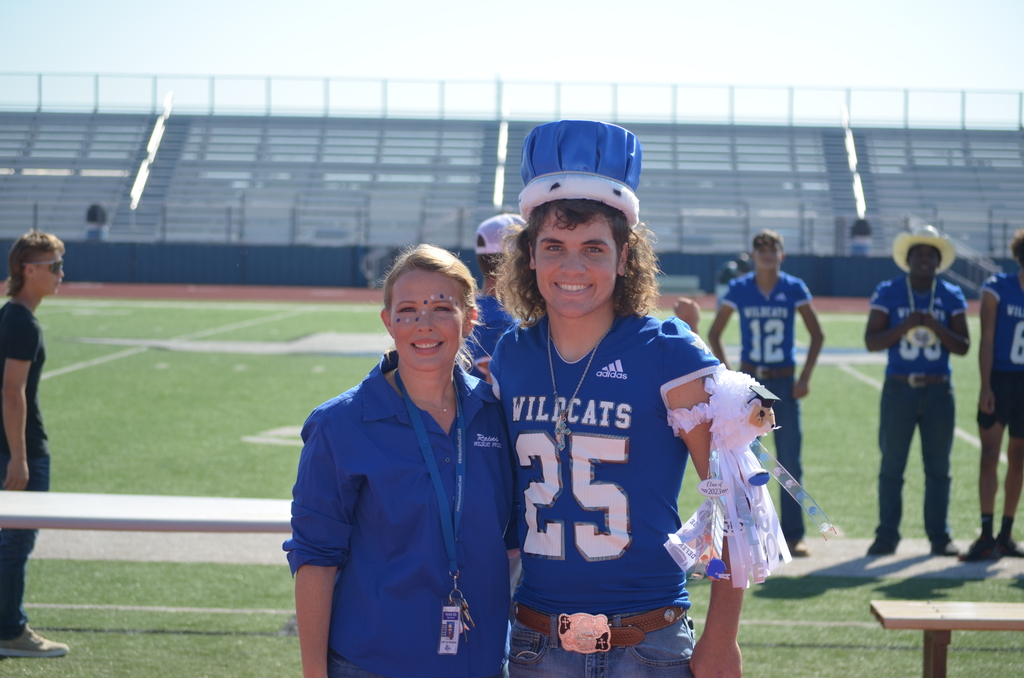 IT'S GAMEDAY, WILDCATS!! 😸🏈😤💙 Check out this incredible promo video from our A/V Production team, and don't forget the Community Pep Rally starts at 9:30AM at Wildcat Stadium. Let's GO! #CodeBlue #RISDHoco2022 #WildcatHomecoming
https://bit.ly/3Borybl
Hey Wildcats! 🚨Don't forget tomorrow's Community Homecoming Pep Rally starts at 9:30AM at Rains Wildcat Stadium.🚨 Tonight's schedule is as follows: 👀 JH Volleyball vs Grand Saline - 4:30PM JH 7th Grade Football vs. Grand Saline - 4:30PM JH 8th Grade Football vs. Grand Saline - 5:30PM JV Football @ Grand Saline - 5:30PM Tickets for home games are online (
https://www.rainsisd.org/page/wildcat-athletics
), and sold at the gate. #RISDHoco2022 #WildcatsintheWild #CodeBlue #WildcatHomecoming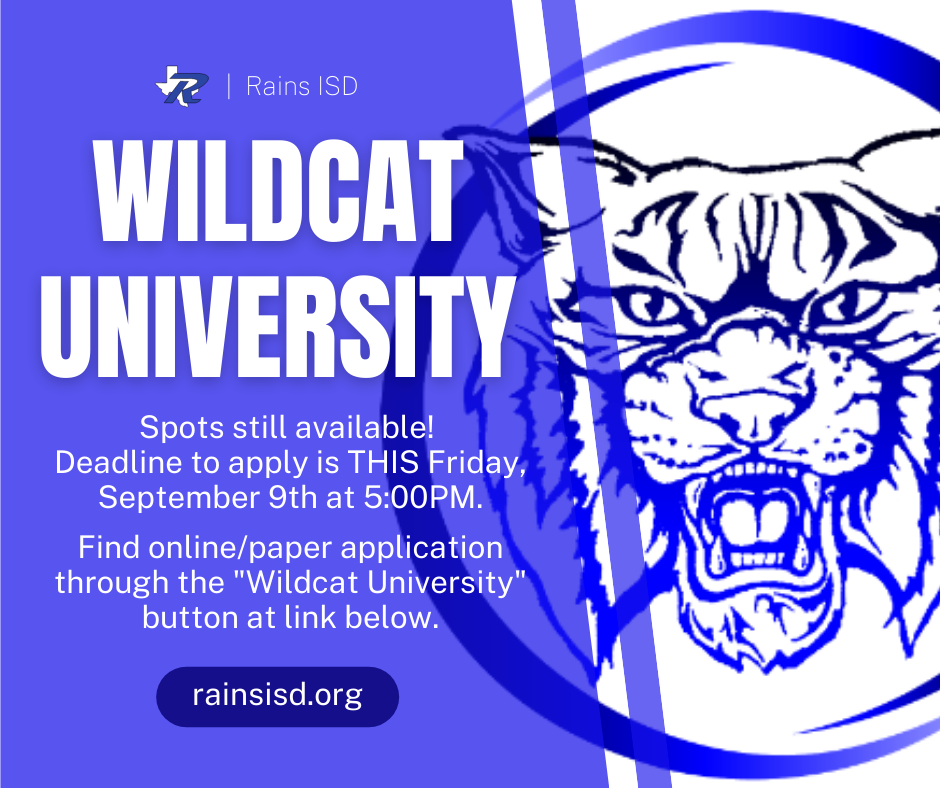 Please read the following notice from the Superintendent: To Our Wildcat Family, It is with deep regret that we inform you about a recent loss to our school community. On Monday, September 5, Gemini Howle, an 8th grader at Rains Junior High passed away. This loss is sure to raise many emotions and concerns for our entire school, especially our students. We are providing psychologists, counselors, ministers, and extra staff to assist students and teachers as we make our way through this difficult time. Students may exhibit all levels of emotions, ranging from crying, numbness, and feelings of despair, to simply wanting to be close to family and friends. All are normal responses. If you would like additional information or need assistance, please do not hesitate to reach out to campus counselors. We are saddened by the loss to our school community and will make every effort to help our students, staff, and community as needed. In sympathy, Jennifer Johnson
💙🏈🎺 HOCO 2022 🏐👟💙 It's time for all things Homecoming and "We've Got the Beat!" Rains ISD Homecoming Week 2022 is the week of September 6th-9th. Check the RISD Homecoming website for updates on the weekly schedule, spirit days, homecoming court, and more! 👉🏼
https://bit.ly/3Q19kkh
Missed something? You can watch the community pep rally, High School Mini Olympics, Homecoming Queen and King crowning moments, and more in the Recap section, or visit the Wildcat Legends YouTube channel. Use the hashtag #RISDHoco2022 for a chance to be featured on our District social media accounts. Let's see all of your Wildcat pride! #RISDHoco2022 #CodeBlue #WeveGottheBeat #fotps #texaspublicschools #wildcathomecoming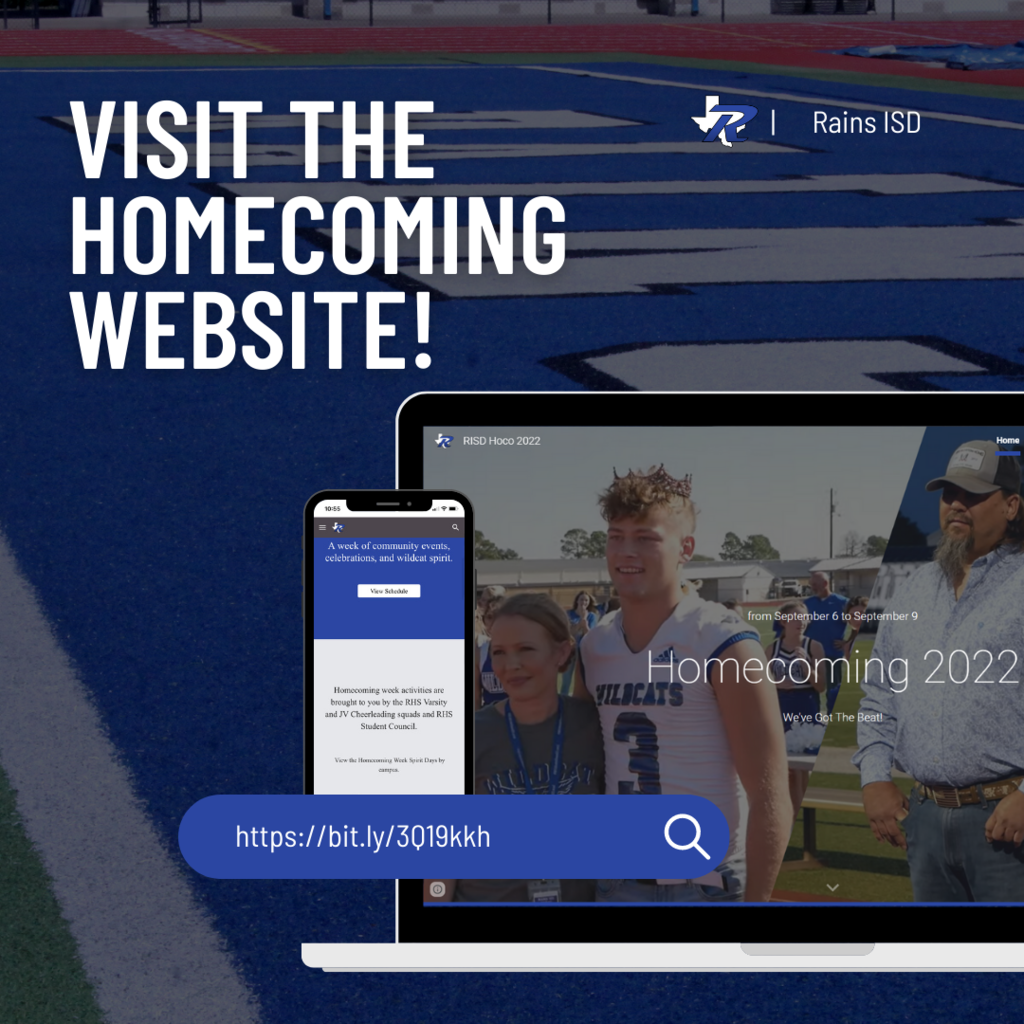 💙 ANNOUNCING WILDCAT UNIVERSITY: 💙 Rains ISD has established Wildcat University to provide community members with a unique, comprehensive overview of the inner workings of a public school district. If you are interested in being a part of our Wildcat University, applications are open through Friday, September 9, 2022 at 5:00PM. Limited opportunities available. To find more information and apply, visit
https://www.rainsisd.org/o/risd/page/wildcat-university
.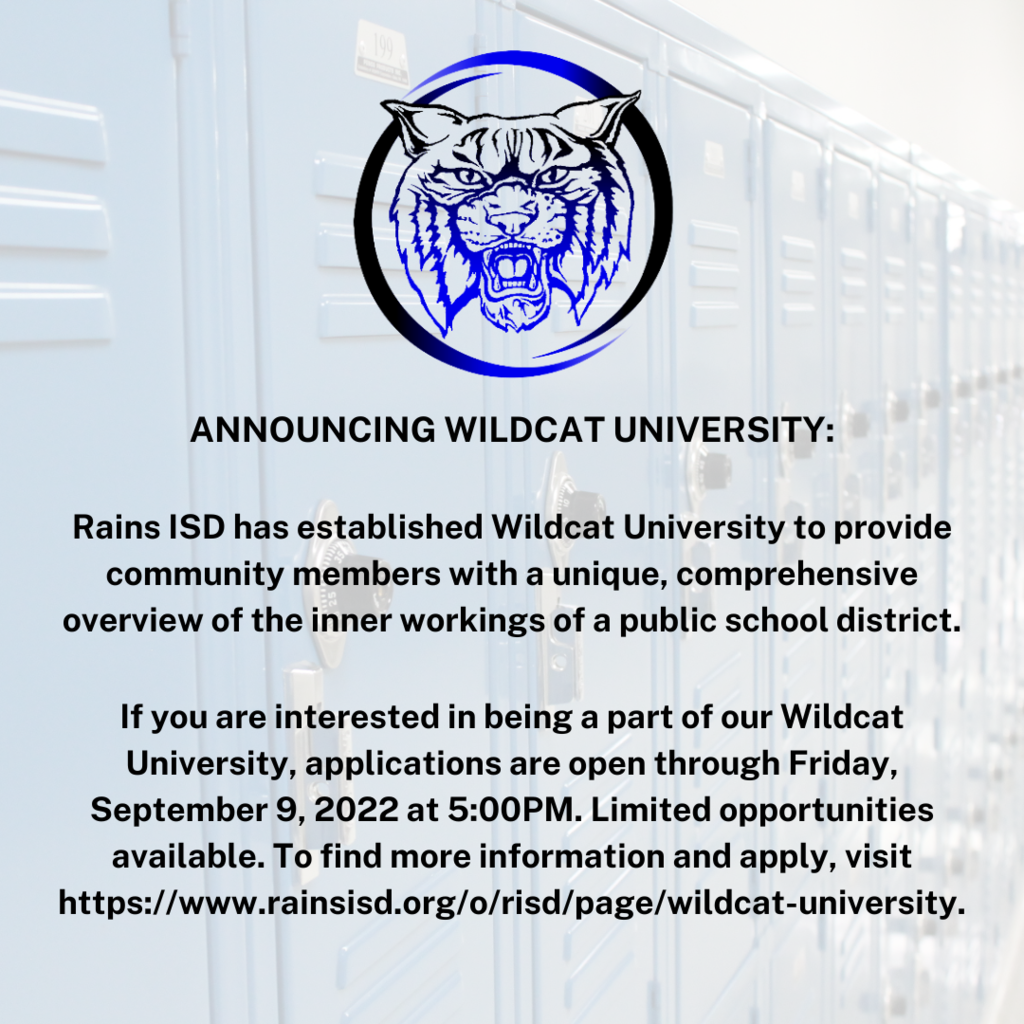 Check out next week's spirit days by campus 👇🏼 #RISDHoco2022