Wishing the best of luck to G. Reid, B. Stone, S. Harris, and N. Burden as they compete at the Girls Regional Powerlifting Meet tomorrow! 💪🏼🏆🏋🏼‍♀️
SCHOOL DELAY UPDATE: Please read the following graphic for updates on tomorrow's two-hour delay.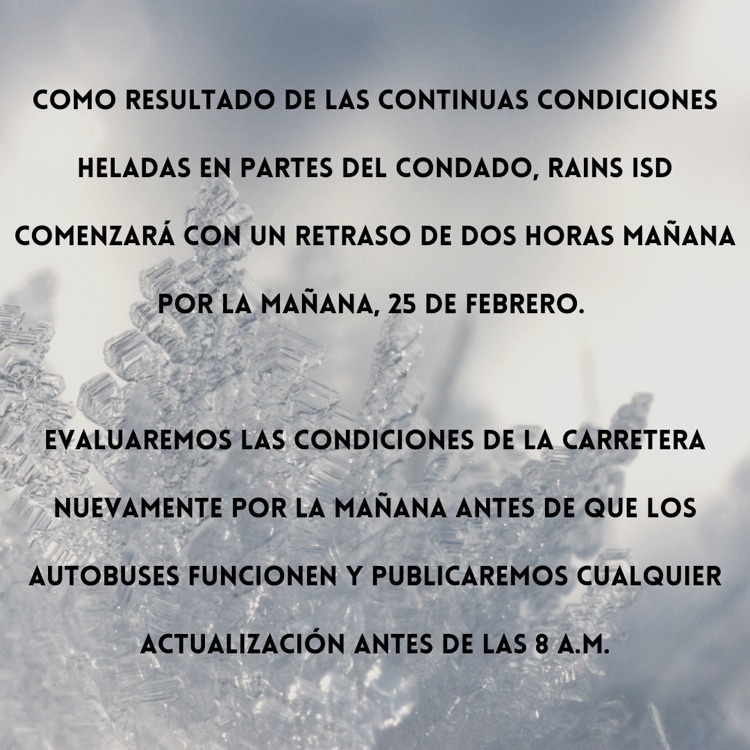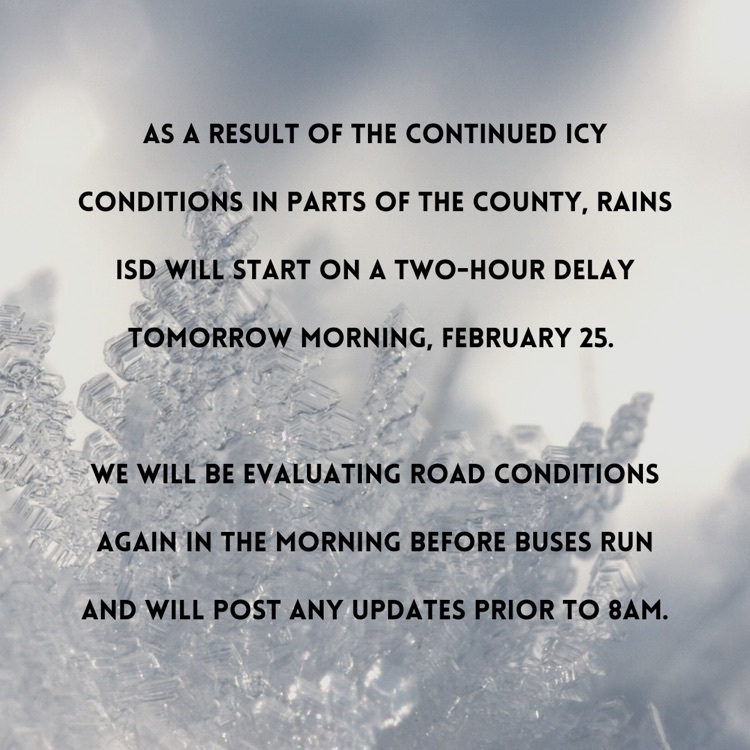 SCHOOL CLOSURE NOTICE: Please read the following update regarding Thursday, February 24.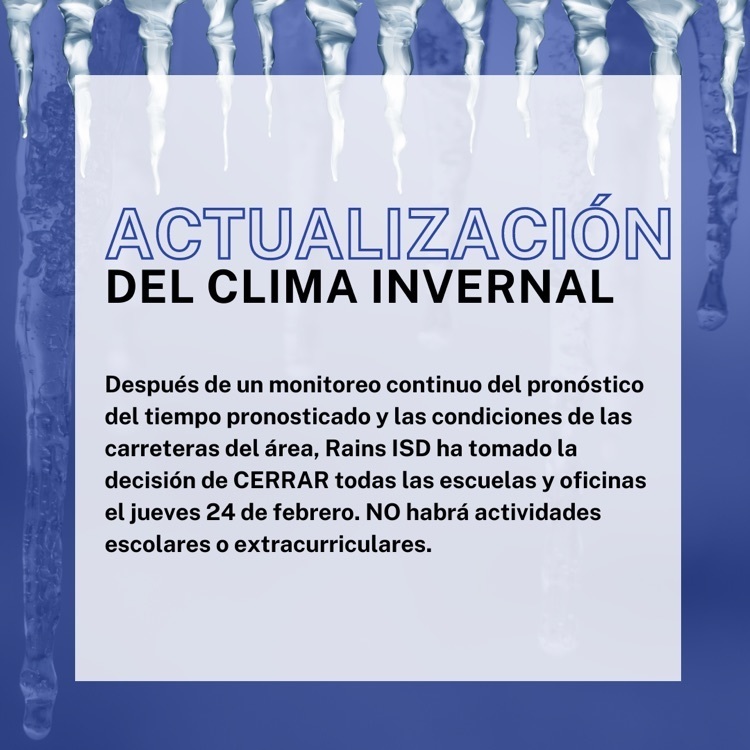 PARENTS/GUARDIANS: If no one is at the home when bus drivers attempt to drop your young child off, they will be brought back to the Elementary school library to wait for pickup. PADRES / TUTORES: Si no hay nadie en la casa cuando los conductores del autobús intentan dejar a su hijo pequeño, serán llevados de regreso a la biblioteca de la escuela primaria para esperar a que lo recojan.
ATHLETIC UPDATES: Please refer to the graphic for all athletic updates on Thursday, Feb. 24 - Saturday, Feb. 26.
ACTUALIZACIONES DEL CLIMA ESCOLAR: Consulte el siguiente gráfico para obtener actualizaciones en español sobre el lanzamiento anticipado de hoy y la llegada tardía de mañana.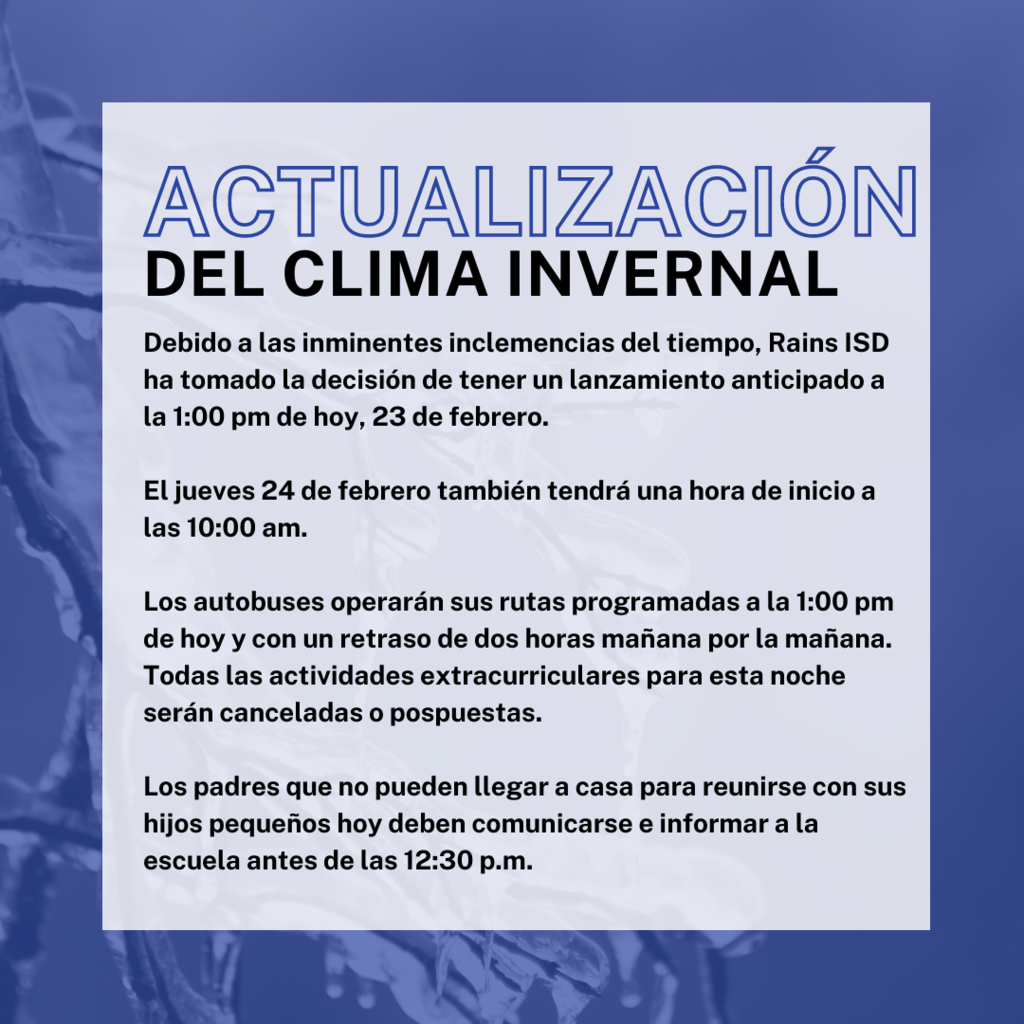 SCHOOL WEATHER UPDATES: Please see the following graphic for updates on today's early release and tomorrow's late arrival.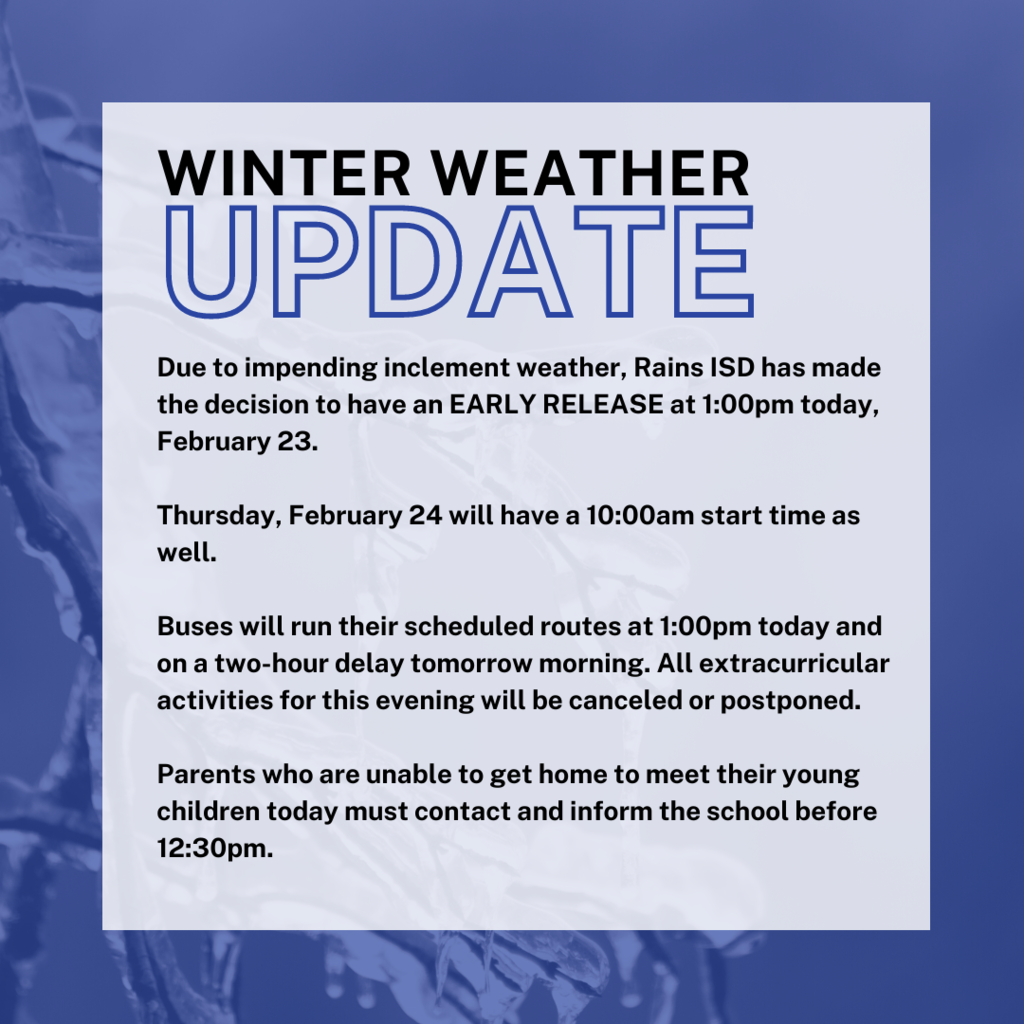 WINTER WEATHER WATCH: Please read the following graphic and be advised.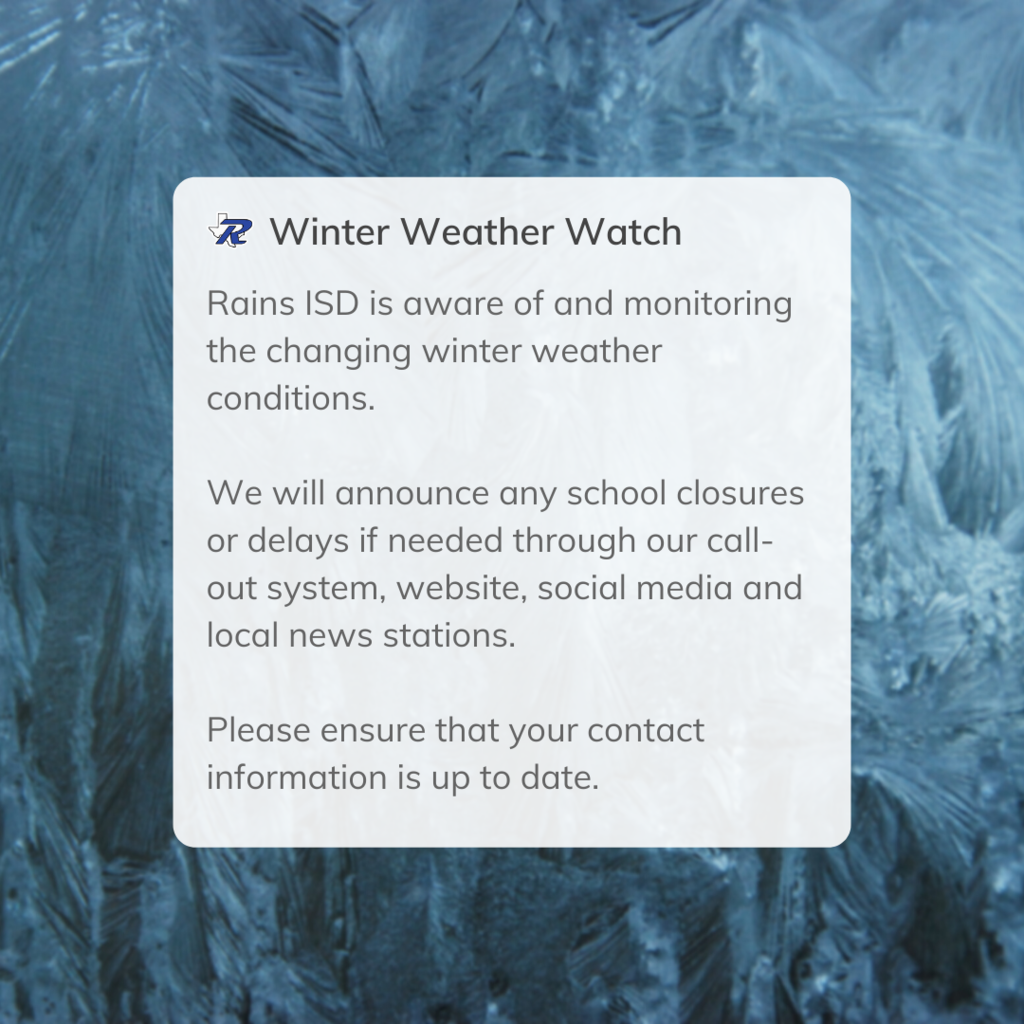 It's Bus Driver/Monitor Appreciation Day and Rains ISD thanks all the men and women who work to make sure our students get to and from safely. Thank you for all you do!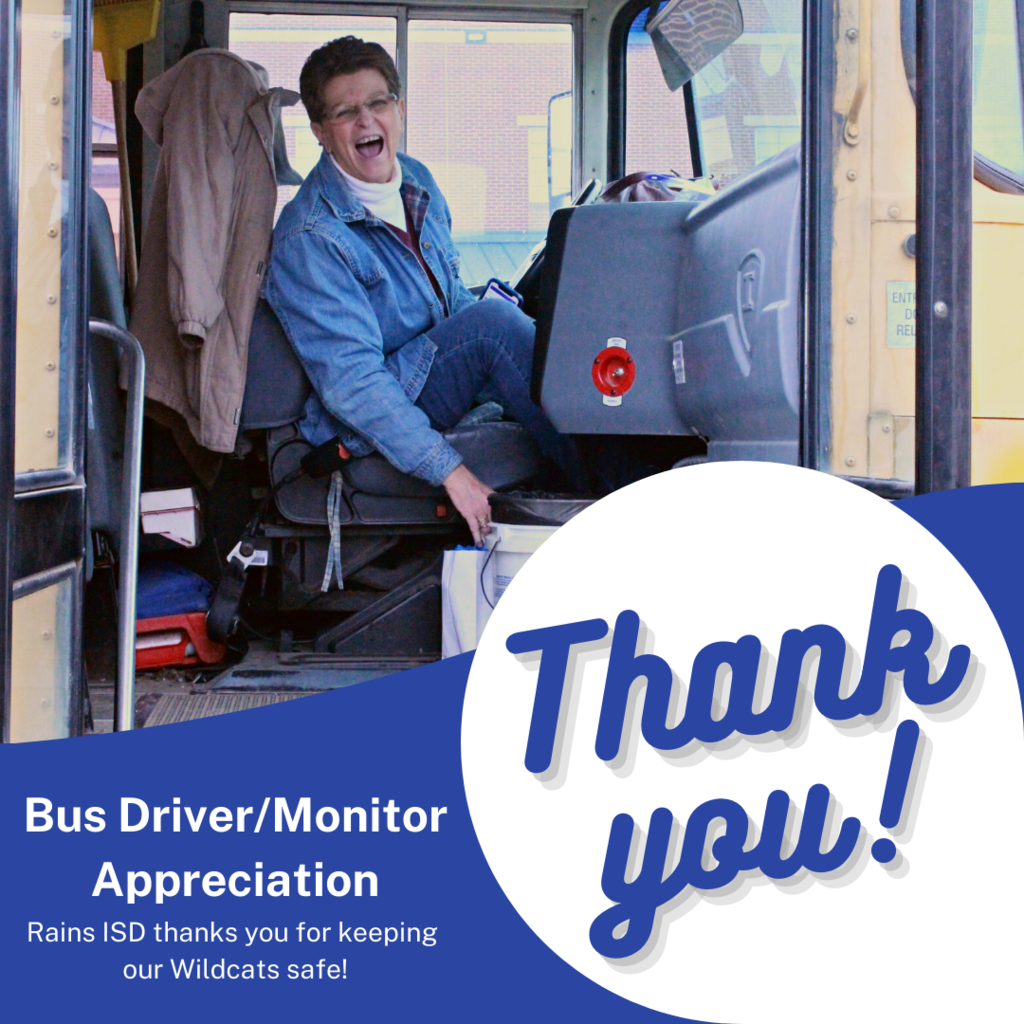 Today our Special Education Department was gifted with a wonderful donation from Mr. and Mrs. Travers with Hunt County Tunes for Tots! This organization is dedicated to fundraising for programs in order to help supply classrooms with the necessary equipment for children with disabilities. Thank you Tunes for Tots for your support of Rains ISD! You can find out more about this organization and how to get involved at
https://www.tunesfortots.org
.

DON'T FORGET! Monday, February 14 is a student/staff holiday and there will be NO SCHOOL! See you on Tuesday, Wildcats! 💌💝

🏀💙Lady Cat Basketball Fans!💙🏀 Varsity girls basketball will play Lone Oak for the 3rd place playoff seating on Friday, February 11 at 2:00pm at Lone Oak High School.
It's National School Counseling Week! Thank you to each of our wonderful counselors for helping to make Rains ISD an environment that inspires life-long learners in an ever-changing world. #nationalschoolcounselingweek #nscw #thankacounselor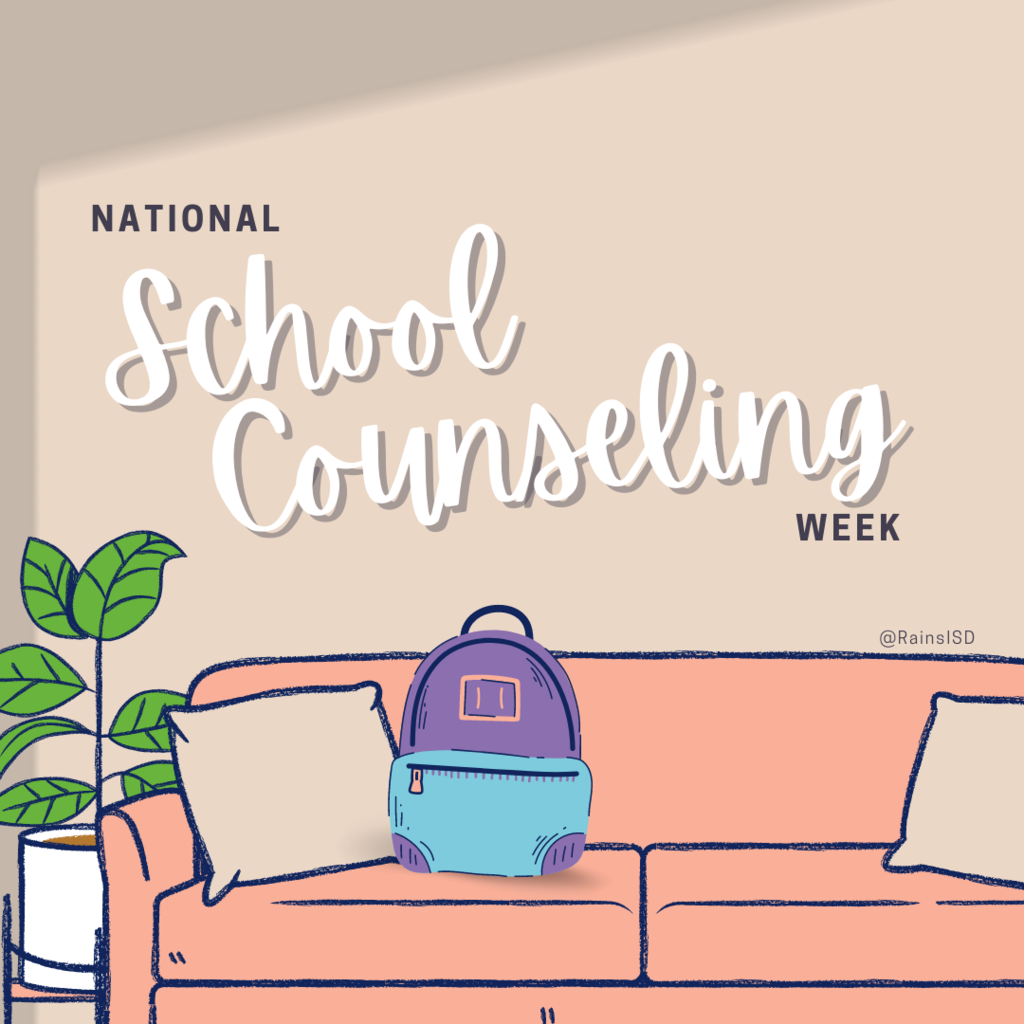 Junior High girls basketball games have been CANCELLED for tomorrow, Feb. 5. 🏀💙
💙⚾️ WILDCAT BASEBALL FANS: Tomorrow's 3-way scrimmage has been cancelled. Please refer to previous athletics updates for the remaining basketball game times tomorrow.
🏀⚾🥎ATHLETICS UPDATES: The following changes will be applied to UIL sporting events for the remainder of the week. Please note that these changes will be in effect regardless of school status. Notification regarding Friday, February 4 will be sent out at a later time. 👉 SATURDAY, February 5 (all games are home): 9 am: JH Girls Basketball vs. Edgewood (B team / 7th grade / 8th grade) - 3 games in that order 4 pm: Varsity girls vs. Prairiland (senior night) 5:15: Varsity boys vs. Prairiland 11:00 am: Baseball 3 way scrimmage vs. Mt Vernon and New Diana CANCELLED: Powerlifting meet at Sabine, Softball scrimmage (home) vs. Carthage and Mabank
Hey Wildcat Family! Due to impending inclement weather, all Rains ISD campuses and facilities will be CLOSED tomorrow, Thursday, February 3rd. All school activities will be canceled or postponed. We will make a determination about Friday tomorrow. **All school activities will continue as normal today. Buses will run as normal this afternoon. Please stay safe and stay warm! ❄⛄
❄WEATHER WATCH REMINDER: RISD is continuing to monitor weather conditions, and in preparation for any announcements PLEASE DOWNLOAD the Rains ISD app from your Google Play or Apple App Store. This will be the fastest way to get notification updates right from your phone. Make sure your Skyward contact information is up to date as well for email and automated call notifications. Download for Android:
https://bit.ly/2VJqwVo
Download for iPhone:
https://apple.co/2XjkkUx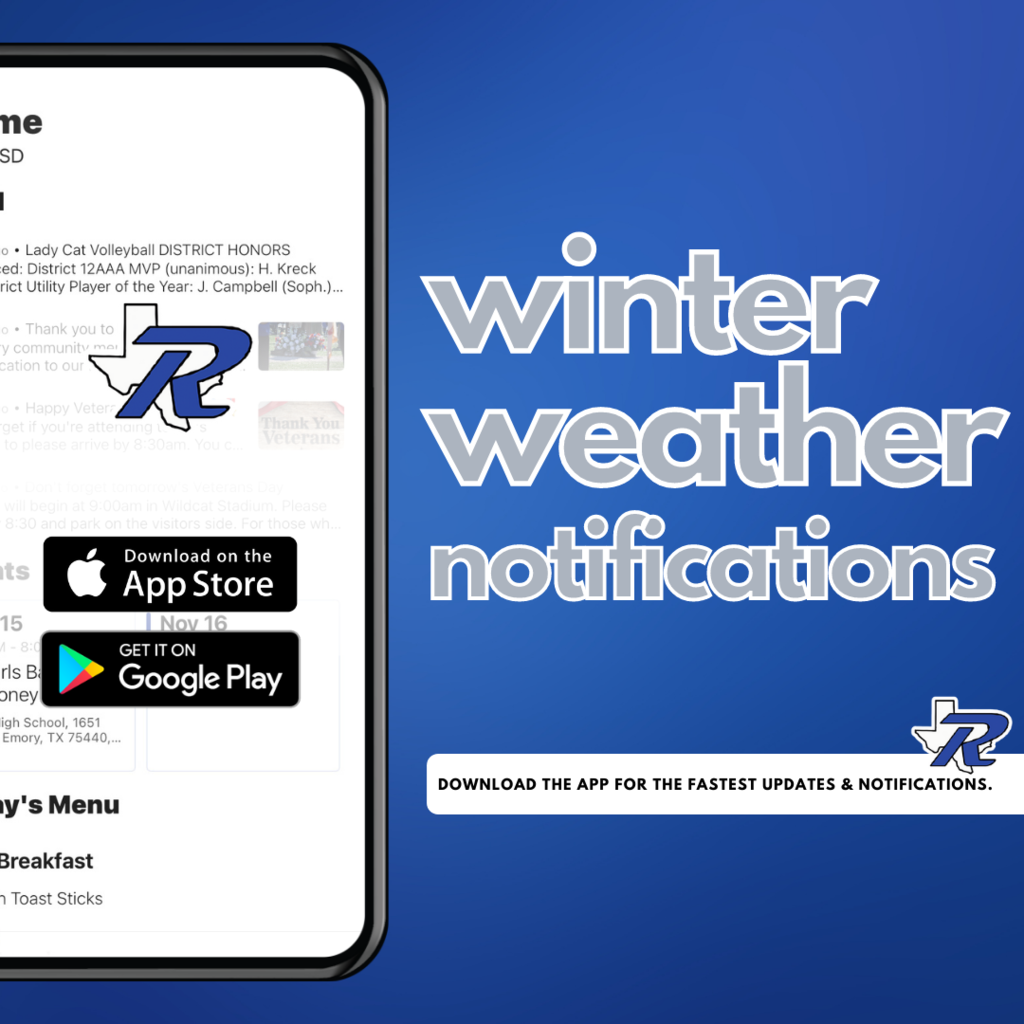 DON'T FORGET! NET Health COVID Booster/Vaccine Clinic is happening NOW at the Rains Junior High library (until 3pm). 🦠